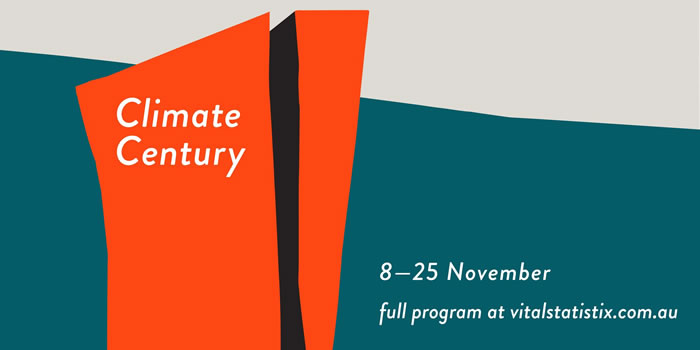 Climate Century is a major public program featuring eight new works by Australian artists who are at the centre of exploring climate change.
Global climate scientists agree we have past the tipping point of climate change; it can no longer be considered a crisis but instead a disastrous condition. Living with, and surviving, this condition is the great experimental challenge of our times and for our planet, culturally and scientifically.
Climate Century offers surprising and profound artworks exploring grief, resistance, survival and reinvention in the 21st century. Each of the works grapple with preposterous pasts and futures; they expand on practices of memorialisation and speculative thinking; they are funny, playful, moving, sad, accessible, fierce and brave.
Climate Century is presented in Port Adelaide across three weeks, at Vitalstatistix's home, the Waterside Workers Hall, on and around the Port River, and at the iconic Hart's Mill. The public program has something for everyone ' live art, dance, music, video and sculptural installations, and a series of talks, workshops and very special events.
This festival is the finale of Climate Century, a five-year process undertaken by Vitalstatistix from 2014 to 2018. Dive into this finale with us.
Climate Century
TICKETS AVAILABLE FOR: Sentients, Deepspace, Eyes, Raft of the Medusa + workshops.
8 - 25 November 2018
Waterside, Hart's Mill and surrounds
A festival of climate change art for the 21st century: three weeks of performances, installations, talks, workshops and special events in Port Adelaide.
TICKETS AVAILABLE FOR
Sentients: An immersive concert of beautiful and hopeful odes to individual animals who suffer for our desires.
Deepspace: A mesmerising dance performance about remoteness and proximity, connectedness and isolation, and our curiosity for the unknown.
Eyes: A provocative and innovative audio performance about beliefs systems and survival tactics for the end of the world.
Raft of the Medusa: A subversive river cruise and participatory performance about creating a new water-world order.
Workshops (FREE TO BOOK):
River Cycle: Explore everyday invention and speculative climate solutions through sculpture and visual art. Suitable for adults and accompanied children aged 8 years and over.
Deepspace: An introduction to the physical and technical ideas that underpin James' practice, and the research process (choreographic and scientific) that contributed to the development of Deepspace. Suitable for adult dancers and non-dancers.
War Dance of the Final Frontier: An introduction to Latai's body-centred live and mediated practice, and the physical, political and cultural language of war dances. Suitable for adult dancers and non-dancers.
❊ When ❊
From
: Thursday 8th of November 2018 To Sunday 25th of November 2018
Time:
2pm - 10pm
11 Nile Street Port Adelaide South Australia | Map
Telephone: 08 8447 6211



❊ Web Links ❊

➼ Book Online Here

➼ Climate Century Festival

➼ vitalstatistix.com.au




❊ Be Social ❊


Publisher Statement: Details can change at any time. Readers are advised to check with the advertiser (links above) before proceeding.
➼ Advertising Disclaimer

Tags: Arts, Dance, Music, Theatre, Installation, Environment,


Update This Page