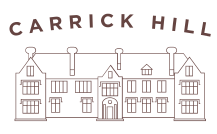 PUBLIC HOURS AT CARRICK HILL:
Wednesday to Sundays and Public Holidays 10 am to 4:30 pm.
House
Carrick Hills Volunteer Tour Guides take visitors through the house, telling the history of the Haywards and their home, as well as the artworks and furnishings.
Amongst the many paintings are works by Dobell, Gaugin and Sickert. There are sculptures by Jacob Epstein of Albert Einstein, Bernard Shaw and Sir Winston Churchill. The house is decorated for English country life living and includes some interesting furnishings of William Morris. Carrick Hill also holds exhibitions of artists related to the Haywards collecting or patronage.
Carrick Hill is open to the public from Wednesday through to Sunday with guided tours at 11:30am and 2:30pm.
To book a tour for a group larger than 15 people it will be necessary to arrange a tour time, please call 8433 1700.
Garden
Guided tours of the formal garden with one of Carrick Hills Gardeners can be arranged by appointment only.
The tour will give glimpses into the history and future of the garden as well as some tips for your own garden.
To book a tour for a group, please call 8433 1700
Time:
11:30am and 2:30pm
❊ Venue | Location ❊
Carrick Hill | House & Gardens
[
view
]
46 Carrick Hill Drive Springfield South Australia 5062 ||
Map
Telephone: 08 8433 1700
➼ Venue: 2 Calendar events |
View Events
❊ Web Links ❊
➼
Carrick Hill | Tours
➼
www.carrickhill.sa.gov.au
❊ Be Social ❊
Publisher Statement
: Details can change at any time. Readers are advised to check with the advertiser (links above) before proceeding.
➼
Advertising Disclaimer
Update This Page