What To Do Today: Sunday 25th February 2018
---
| | |
| --- | --- |
| ** Charity | Fundraisers ** | |

Food Drive February 2018
This Food Drive Feb we are asking you to "Show us your cans" literally collect canned food and bring it in - we'd love a whole can wall - we're aiming for 1000 cans at the end of the month! Puddle..
More..
---
---

Mega Adventure Park | Open
Australias First Aerial Adventure Park Open daily Mega Adventure Park provides the ultimate playground for all ages. The main feature at Mega is SkyMate, a 26-metre-high structure with 50 aer..
More..
---
---

Gravity & Other Myths' - A Simple Space
Gravity & Other Myths' A Simple Space A fun-filled experience for all ages A Simple Space is circus stripped back to its essential elements - allowing the talent on stage to shine through in a c..
More..
---
---
| | |
| --- | --- |
| ** Culinary | Wine & Dining ** | |

Open | National Wine Centre
The National Wine Centre's Wined Bar is home to Australia's largest tasting room experience. Visit us, and you'll be able to sample from a range of 120 different Australian wines - all dispensed f..
More..
---
---

Arthur Streeton: Blue and Gold
Arthur Streeton: Blue and Gold 25 OCTOBER TO 25 FEBRUARY 2018 Exhibition by the renowned Australian Impressionist artist Arthur Streeton (1867 - 1943) which highlights his depiction of land and ..
More..
---
---
| | |
| --- | --- |
| ** Exhibitions | Launch ** | |

Adelaide Botanic Garden | Open
Spend an hour or spend the day amongst the 16 hectares of magnificently landscaped gardens. Relax in the shade or enjoy a coffee among some of Australia's finest plant collections. Hours Opening ..
More..

South Australian Museum | Open
The South Australian Museum offers five floors of intriguing displays for visitors to explore, along with regularly changing special exhibitions and a range of programs that appeal to all ages. The..
More..
---
---

Adelaide Fringe Festival 2018
2018: 16 Feb - 18 March | Adelaide Fringe is an annual open-access arts festival run over four weeks in Adelaide, South Australia during February and March. Unlike a curated festival, the open-acce..
More..
---
---

Carrick Hill | Open
Carrick Hill is open to the public from Wednesday through to Sunday, regular tours are offered twice daily at 11.30am & 2.30pm. Tours can be either for individual visiting or for group bookings. To..
More..
---
---
| | |
| --- | --- |
| ** Markets | Art, Craft & General ** | |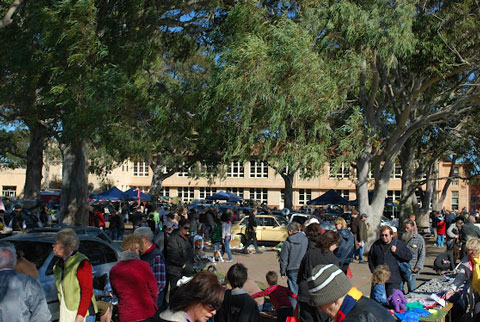 Brighton Sunday Market | 4th Sunday
Brighton Sunday Market is held on the second and fourth Sunday of every month, 7am to 12noon at Brighton Secondary School. Held in the grounds of the school are converted into one of the biggest tr..
More..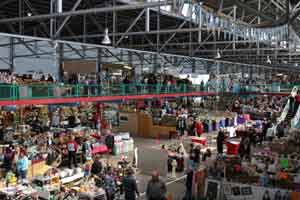 Fishermens Wharf Market
The Port Adelaide Fishermens Wharf Market is open every Sunday and Public Holiday Mondays, 9am to 5pm. With over 100 stores to experience, the diversity and character of our stall owners adds to th..
More..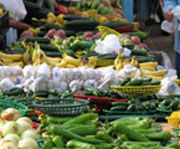 Gawler Lions Market
The Lions Market at Gawler Railway Station is held every Sunday. Stallholders offer their wares including arts and crafts, fresh local produce, bric-a-brac, tools and more. Come along to Gawler ..
More..

Show ALL 8 Markets | Art, Craft & General Events
---
| | |
| --- | --- |
| ** Markets | Food & Produce ** | |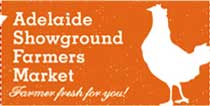 Adelaide Showground Farmers Market
The Adelaide Showground Farmers Markets are held every Sunday from 9am to 1pm, except during the Adelaide Show. The Adelaide Farmers Market, Showground is the largest farmers market in South Austra..
More..

Myponga Bank Farmers Market
The Farmers Market at Myponga Bank is held every Sunday from 10am to 1.30pm. The markets have a focus on the gourmet foods, and feature stallholders selling locally grown fresh fruits and vegetable..
More..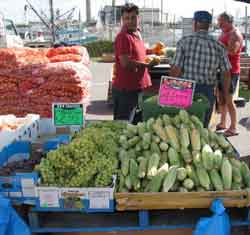 Torrens Island Markets
The Torrens Island Markets are held every Sunday from 6am - 1pm on the banks of the Port River. The Torrens Island Market is operated by 40 stallholders sell fruit and vegetables direct from farms ..
More..
---

National Railway Museum | Open
Take a journey into railway history at the National Railway Museum, Australias largest railway museum with over 100 exhibits. Open Hours Daily: 10am - 5pm Closed Christmas Day. Open from 12 noon ..
More..
---
---

Ovarian Cancer Awareness Month 2018
February is Ovarian Cancer Awareness Month and is held to raise awareness of the signs and symptoms of ovarian cancer how many women are affected by the disease each year the impact it has on these wo..
More..
---
---

Catch | Daily Deals
Have Catch daily deals delivered piping hot to your inbox. Do you remember Catch Of The Day, well now we're known simply as CATCH, fast daily deals delivered right to your door. Catch offers ove..
More..
---
---

Adelaide Zoo | Open
Adelaide Zoo is home to over 1,800 animals and almost 300 species of exotic and native mammals, birds, reptiles and fish exhibited in 8 hectares of magnificent botanic surroundings. There are many ..
More..

Cleland Wildlife Park
Cleland Wildlife Park has been a major tourist attraction in South Australia since 1967. Cleland Wildlife Park is only 20 minutes from the Adelaide city centre. Just take the South Eastern Freeway..
More..

Gorge Wildlife Park | Open
Australias largest privately-owned collection of animals and birds, contained in 14 acres of natural bushland. Cudlee Creek. Opening hours 9.30am - 5pm daily (except Christmas Day) No entry..
More..

Show ALL 4 Zoological & Farms Events